It's been almost 2 years since we launched Julie Desk! From a beginner level virtual assistant, she has become professional and reliable:
Tailor-made service
Around 300 clients
Thousands of meetings handled
New features added: weekly recap, restaurant booking, meeting room management…
In line with her new status, Julie needed a new look. We are delighted to present Julie Desk's new identity through our new website!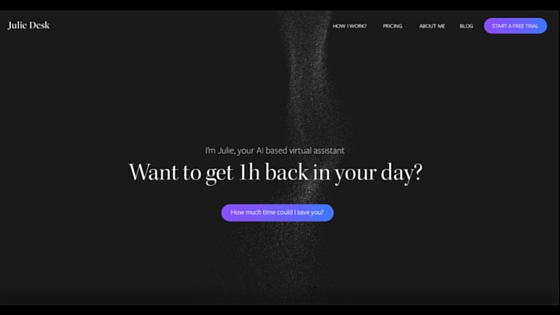 A more professional and elegant website that reflects how Julie has evolved into who she is today! So let's start the tour and see what has changed.
What if you had one extra hour a day?
What I really value is how much time Julie saves me every day!
Time-saving! This is what we mostly hear from our users when we ask for feedback on Julie, and that couldn't make us happier! Indeed, saving time is one of our key drivers. We know how precious time is: for some of our users, saving 1 hour a day is the opportunity to get home at 7 PM instead of 8 PM and spend more time with family and friends, for others, this saved hour will allow them to meet and interact with more people.
Everyone has their own way to use and value the time saved but one thing is sure: everyone wants to save time, don't you agree?
Here is the main question:
What would YOU do if you had 1 extra hour a day?
Think about it, for just 2 seconds, and I am sure you will have plenty of ideas! Your time is precious so no need to waste it with low-value tasks: why send emails back and forth when it can be easily managed by new technologies like AI? At Julie Desk, we believe in technologies that make your life easier, that's the reason Julie has been designed and that's why we believe in her so strongly!
Wondering how much time Julie can save you by scheduling and managing your calendar-related tasks? Ask her, she will calculate it for you 🙂
Time goes by but Julie is always here!
Like the sand flowing in the background of our new website, time goes by. But whatever happens, you know you can rely on Julie, she is always around and manages to keep your calendar up to date 24/7. A meeting cancellation at midnight? Sleep tight, she will handle it! Julie is here to back you up and make sure your meetings are well managed and everything goes smoothly.
Julie is more than a tool, she is part of your team, a colleague you can count on. But she is AI, we can feel her presence; like on this new website, she is talking and interacting with us and our contacts but we can't really see or listen to her! Which makes her mysterious and fascinating!

You will also discover our new packages and pricing on this website: as mentioned before, Julie has changed and developed new features to maintain a more professional and powerful service. Artificial Intelligence features have increased but we still make sure the constant human supervision is in place to ensure your agenda is well managed and avoid any mistakes our robot could make. In the end, Julie is the best of human and machine intelligence combined.
Our pricing has increased but so has the quality! Try it for free during 15 days, so you get a chance to see how much time Julie could save you per day/week and get addicted to the service!
Check out our new pricing. Any doubts? Do not hesitate to contact us!
Do you know our values?
Julie is great but she would be nothing without the strong and passionate team behind her! In this new website, we have highlighted our team members and what unites us, our core values. You will discover our team is serious but fun at the same time!

This is a quick shot of our new website but the best way to discover and enjoy it is by having a look yourself 🙂 : check Julie Desk's new website.
We also wanted to thank all of our partners who helped us build this new website:
Kristina Gudim from Workaholic Designer: Kristina is a very talented designer. She is customer centric and really gets involved in her project. She helped us think about the new identity of Julie Desk and bring it to life! If you need a new design, we can only recommend her!
Pablo Nieto from Arana Studio : we really wanted a video to highlight how Julie can be used and Pablo has been a great help. He listens carefully and then does his magic 🙂
PhotoPresta: this is a new marketplace we discovered; you can book a photographer directly from their website. The pricing is clear and you see what kind of photos they do. They did our new portraits
And of course a huge thank you to all of our clients, without whom, this great adventure wouldn't have been possible!
And don't forget, sharing is caring! Let us know what you think of our new website and do not hesitate to share it with your network and ask them, what they would do if they had one more hour per day?
Me? With 1 more hour per day, I'd learn to play the Piano. You? #1MoreHourADay