The #LifeAtJulie series is still going on and you have yet to meet a few members of our team. This month, we introduce Yacine Elliq, our Product Manager. He describes his role within the team and reveals what keeps him curious and always learning. He also happens to be our Chief Karate Officer!

If you want to meet other members of the team, you can check the previous episodes.
1. Hi Yacine, can you tell us a bit more about your background?
I followed a pretty traditional engineering path. After a few years of preparatory classes, I landed at Supaero, an engineering school in Toulouse. Although mainly oriented towards aeronautics, this school opened other doors for me and I took the opportunity to do a year off from my studies to work as a Management Control officer at Renault in London. This experience had a big impact on me. Apart from the fact that London is a magnificent city, I discovered that I was mostly interested in combining the so-called "hard" sciences with "soft" sciences. I also understood that being an engineer does not necessarily mean working in a consulting firm or spending days on computer simulations.
2. How did you end up at Julie desk?
During my final year, I had to do an internship. I wanted a new experience in a structure where I could have an "impact" and where the conclusion of my internship would not be summarized in a report of about sixty pages on a shelf. This has led me quite naturally to take an interest in the world of startups. Fortunately, a former student from my school sent an internship offer to Julie Desk. The product seemed innovative and turning to the future, so I applied. Then everything happened very quickly and ten days later, I started my internship.
3. What's your role at Julie Desk? Can you describe a typical day?
I am a part of the Product Team at Julie Desk. Our role is to improve Julie so that she can offer our clients more features and provide an answer to their requests as quickly and efficiently as possible. Specifically, I work on integrating AI algorithms in Julie's operations. I identify actions and processes that can be automated. Then, I follow the automation phase and ensure that the quality of the service provided by Julie is maintained and even improved.
In my spare time, I am also a Data Analyst, which means that when someone on the team wants to know "how many meetings has Julie scheduled?" or "How much time does it take Julie to…", they come to see me. Then I look for the requested information in the database, I cross-reference the data and I give them the numbers that they asked for.
4. Any advice for people willing to do what you do?
The most important thing is to stay curious. Working in a startup means facing new challenges every day. There is no magic formula, you need to look for answers, see and learn what they do elsewhere. And that's what I like. I feel like I am constantly learning and improve myself. It also makes me realize that there is always room for improvement and therefore quench my thirst for lifelong learning.
5. What is the main challenge you face (or have faced) while working at Julie Desk?
Without hesitation, I would say the ring and pin games during my job interview. After many tries and thanks to good advice, I succeeded. Since then, whether at Julie Desk or in my private life, when I am faced with a difficult situation, I always go back to that moment and it helps me put things back into perspective.
6. Where do you see Julie Desk in 5 years?
I think that virtual assistants will become common in big companies. Julie Desk will be considered a leader in France and in Europe. Julie will be interfaced with numerous applications to offer an even bigger range of services and improve customer experience. She will also be fluent in one or two other languages like Spanish. Finally, she will also have a vocal interface, like Siri.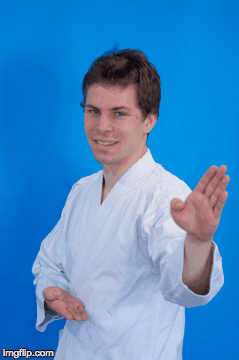 7. Where do you see yourself in 5 years?
Married with a house and a labrador 🙂 To be honest, I have no clue. I hope to obtain my second Karaté Dan and know how to decently play the guitar.
8. How would you describe yourself?
Curious, go-getter, open and bad at maths (but very funny 😉 )
9. Anything about you that people might not know and you'd like to share?
I can't think of anything else.
10. What is the first thing you do in the morning? Any routine?
Thanks to our Guru in Chief, in the morning, I've started following The Five Tibetan Rites which is a combination of yoga movements. It helps you wake up properly and helps you maintain a certain level of flexibility. Then, I have breakfast and head to work.
11. Your favorite App?
Whatsapp because it allows me to stay in touch with my friends who are overseas and also because it simple to use.
12. Favorite meal?
I like some couscous with mechoui.
13. Favorite quote?
"Every baby goat is a gazelle to its mother"
My father says this often, it's an Arabic proverb.
14. Who inspires you the most?
No one in particular, even though I've always been influenced by the people who surround me.
15. Your best memory at Julie Desk?
That moment, during my interview, when the ball from the ring and pin came sat perfectly on top of the pin! 😀
Thank you, Yacine for answering our questions.
Any reactions? Leave us a comment!
Don't forget, Sharing is caring >> #LifeAtJulie 😉